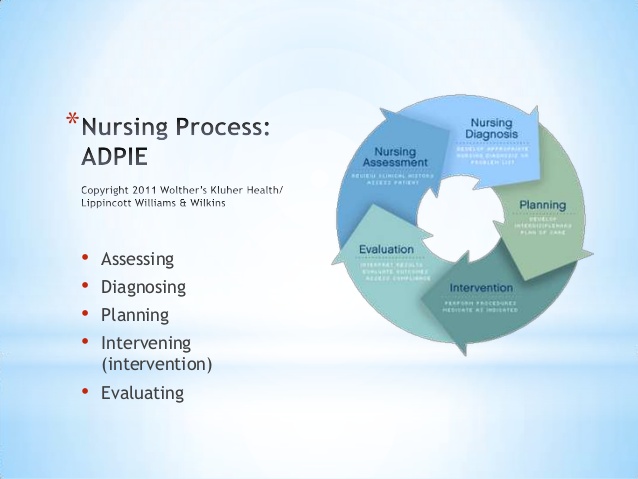 The nursing process is the procedure used by nurses to manage and deliver holistic, patient-focused care. ADPIE process is the basis of how nurses think and operate in clinical patient care.
A – ASSESSMENT
D – DIAGNOSIS
P – PLANNING
I – IMPLEMENTATION
E – EVALUATION
Assessment
Nurses use a systematic and dynamic way to collect and analyze data about a client which is the first step in delivering nursing care. Assessment includes physiological data, psychological, sociocultural, spiritual, economic, and lifestyle factors.
Diagnosis
The nursing diagnosis is the nurse's clinical judgment about the client's response to actual or potential health conditions or needs. The diagnosis reflects not only that the patient is in pain, but that the pain has caused other problems such as anxiety, poor nutrition, and conflict within the family, or has the potential to cause complications.
Outcomes / Planning
Planning is based on the assessment and diagnosis where the nurse sets measurable and achievable short- and long-term goals. The assessment data, diagnosis, and goals are written in the patient's care plan that is accessible to other health professionals caring for the patient.
Implementation
The nursing care is implemented according to the care plan, so continuity of care for the patient during hospitalization and in preparation for discharge needs to be assured.
Evaluation
The continued evaluation of the nursing care plan is needed which includes patient status and its effectiveness. Modification of the plan is also applicable if needed.